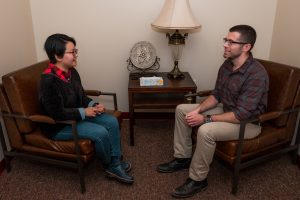 The Clinic is the training and research clinic for the New Mexico State University's Department of Counseling & Educational Psychology (CEP). The Clinic provides individual and group counseling and assessment services to NMSU students enrolled in classes offering extra credit for volunteer activities. Trainees from the department's Counseling Psychology program (PhD – accredited by the American Psychological Association), Clinical Mental Health Counseling program (MA – accredited by the Council of Counseling and Related Educational Programs), the School Psychology programs (EdS – accredited by the National Association of School Psychologists and PhD – seeking accreditation) and Counseling and Community Psychology undergraduate major (BS) provide services as part of internships, practica, field experiences and assessment courses while receiving supervision from faculty (including licensed psychologists, prescribing psychologists and licensed counselors) and advanced doctoral students who provide supervision under the guidance of a New Mexico licensed psychologist. All services comply with relevant professional ethical codes and state & federal healthcare laws.
The Clinic has at various times collaborated with the Department and Family & Consumer Sciences' Marriage & Family Therapy (MFT) Program, the Aggie Health & Wellness Center and the Las Cruces Public Schools to provide additional services. The Clinic is located in O'Donnell Hall, Room 047 and has five treatment/assessment rooms, three observation rooms, a file room and a workspace for providers. 
Contact Us:
Call 575-646-5365 for an appointment during the Fall and Spring Semesters of the academic school year
Monday, Tuesday, Thursday, Friday 9-5 pm
Wednesday 9-6 pm
To sign up for services, please click the link below.
Location: Main Campus: O'Donnell Hall, Suite 047, New Mexico State University, Las Cruces, NM 88003
Please Note: If you are a NMSU student taking a CEP course and wish to participate please consult your instructor's syllabus for the required number of counseling sessions and resulting credit. It is best to begin participating at the beginning or near the beginning of the semester. We cannot guarantee that students will be seen for the required number of sessions past a certain point in the semester. (For example if you need eight sessions to receive full extra credit but there are only four weeks remaining in the term, we will not be able to accommodate that request).
Counseling Process: In order to receive counseling please fill out the form below. You will be contacted within two business days of submitting the form by one of the Clinic's Graduate Assistants. Clients will be assigned to a group or individual sessions depending on their availability. Clients who sign up after the 1st of June will NOT be contacted. Please be sure to check your email, set up your voicemail and make sure it is NOT full so we can leave messages. 
NOTE: All appointments will be scheduled on the hour (i.e 10am-11am). Also, the last appointment will be scheduled for 6pm to end at 7pm.
Additional Information