Project overview
The overall goal of the project is to increase the number of doctoral trainees in counseling psychology (CP) who have been trained in interprofessional education with MA students in mental health counseling (MHC), nursing (DNP), social work (MSW), pharmacy (PharmD) and family medicine (FM) trainees, in order to provide culturally and linguistically competent, integrated, trauma-informed, interdisciplinary team-based care in the delivery of OUD/SUD prevention and treatment services in the medically underserved community (MUC) of Las Cruces, NM and its surrounding area.
Objectives
Objective 1: To provide didactic and interprofessional instruction to 6 CP, 8 FM, 8 DNP, 8 PharmD, 2 MSW & 2 MHC students in integrated, trauma-informed interdisciplinary team-based care in the delivery of behavioral health and OUD/SUD prevention and treatment services.
Objective 2: To provide didactic instruction and supervision to 6 CP and 2 MHC trainees in culturally and linguistically competent service delivery of behavioral health and OUD/SUD treatment, including bilingual supervision for 2 CP and 2 MHC bilingual trainees per year.
Objective 3: To enhance 6 CP, 6 DNP and 2 MSW trainees' competencies in providing integrated, trauma-informed behavioral health and OUD/SUD services in integrated, interdisciplinary settings in high need clinics staffed by CP, MSW, NP, FM, PharmD and Psychiatry professionals.
Objective 4: To provide training in tele-behavioral health services to 6 CP trainees.
Objective 5: To provide faculty development to university faculty and site supervisors overseeing behavioral health services (8 CP, 4 MSW, 6 DNP 3 FM & 1 PharmD) to enhance their expertise in training others in OUD/SUD services
Methodology
Interdisciplinary OUD/SUD training occurs within six components. A.) CP, MSW, DNP, PharmD, and FM trainees engage in a 24-hour "Interprofessional Immersion" experience, which allows them to utilize a trauma-informed, team-based approach to provide OUD/SUD services to simulated patients commonly seen in primary care settings. This immersion is co-taught/facilitated by CP, MSW, DNP, PharmD and FM faculty. B.) MSW, MHC and CP trainees, take a course, "Primary Care Psychology," which teaches the biopsychosocial model of health and utilizing a holistic review strategy in the provision of behavior health and OUD prevention and treatment and tele-behavioral health services in primary care settings. C.) As part "Behavioral Health Practicum", CP trainees will provide trauma-informed, culturally-competent OUD/SUD & behavioral health services collaborating with MSW & DNP students, FM and PharmD residents & supervising faculty, as well as Psychiatry professionals at a FM residency clinic, a FQHC, a psychiatric hospital, and a community clinic serving the judicial system. D.) CP trainees will continue to provide services at those same sites in the following Summer or Fall Semesters as part of "Field Experience in Integrated Behavioral Healthcare". E.) MSW, DNP, MHC and CP trainees can elect to take a Mindfulness class in order to enhance their understanding of how mindfulness can be used to prevent and treat OUD/SUDs. F.) Bilingual CP & MHC trainees who are providing OUD/SUD services in Spanish, receive bilingual supervision. All trainees provide services in Dona Ana or Luna counties, which are mental health HPSAs. Faculty development in OUD trainings will occur annually, will be trauma-informed and emphasize culturally competent care, and will include local on-site trainings, webinars and national/regional conferences.
Training Sites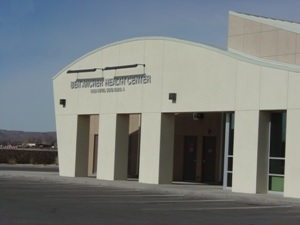 Ben Archer Health Center serves Dona Ana, Luna, Sierra and Otero Counties, with eleven Primary Health Care Clinics and six School-Based Health Center sites. BAHC is designated as a Federal Qualified Health Center (FQHC), a Migrant Health Center and a Community Health Center; and is a HRSA grant recipient.  Ben Archer Health Center has been providing primary care services since 1971. BAHC provides services to over 38,000 patients/clients.
Behavioral health services are integrated with primary care and include individual counseling, couples counseling, family counseling and group counseling for women with issues of depression and low self-esteem.  BAHC has school-based health centers (SBHC) during school hours at four high schools in Dona Ana County: Mayfield, Las Cruces, and Onate High Schools and recently added Arrowhead Early College High School and recently began providing behavioral health services at Dona Ana Community College.  These SBHCs provide primary care, mental health services, reproductive counseling, and substance abuse treatment to any student at that school regardless of whether the students possess insurance.  The SBHCs are staffed by mental health providers, psychiatric nurse practitioners, family nurse practitioners, and emergency medical technicians.
Family Medicine Center (FMC) of Southern New Mexico Family Medicine Residency Program
The FMC is a training clinic for the SNMFMR Program and it is staffed by physicians, nurses, and nurse practitioners. It is the clinic site for a three-year Family Medicine residency program sponsored by Memorial Medical Center (MMC) in Las Cruces (a fully-accredited tertiary care hospital). FMC is a modern, full-service facility designed to meet the comprehensive health care needs of individuals and families with an emphasis placed on sensitivity to local ethnicity and culture (over 15,000 patient contacts a year). In the FMC there is a commitment to the patient as a whole person, continuity of care, and accessible and affordable care. Treatment uses a family systems approach, and is community oriented. The FMC offers pediatric, obstetrical, and adult medical services so that the entire family can be seen by the same physician. The FMC serves patients from ethnically diverse backgrounds, primarily serving patients of Latino descent, and also serving Native American, Caucasian, and other ethnicities. Over 50% of patients have Medicaid or Medicare.
The FMC has an established relationship with the CEP department as a result of this grant. On-site supervision and coordination efforts will be provided by Dr. Hoover and the Graduate Assistant assigned to him. CP students will provide assessment and diagnosis for a wide range of mental disorders; individual and family therapy; psychoeducational interventions for scheduled group sessions on certain health behaviors such as smoking cessation, dietary changes, and stress management (including mindfulness-based meditation); and develop treatment plans for patient adherence to medications and other life-skills training.
Esperanza Guidance Services (EGS)
Esperanza Guidance Services is a private clinic that offers a range of personal and professional behavioral health services. These include mental health and psychiatric evaluation, substance abuse treatment, Screening Brief Intervention Referral Treatment (SBIRT), domestic violence counseling, and a State-approved batterer's intervention program. Since domestic violence and substance abuse often co-exist, trainees would be collaborating with the providers who run this program. EGS's interprofessional teams of social workers, nurse practitioners, psychologists, and counselors offer evidence-based treatment for those with substance use and other mental health disorders. Trainees will provide assessment and diagnosis for a wide range of behavioral and substance use disorders, and provide counseling/psychotherapy and education for the treatment of addiction disorders; deliver psychoeducational interventions for individual and group sessions; and develop treatment plans for patient adherence to medications. Additionally, trainees will receive opportunities to engage with interprofessional teams in the areas of trauma-informed care, medication-assisted therapies (MAT), and cognitive behavioral interventions for addictions treatment. The service population includes at least 80% who are Medicaid patients and approximately 90% who have co-occurring SUDs and mental health disorders.
MVH is a psychiatric hospital in Las Cruces, NM which provides both inpatient and outpatient mental health and SUD treatment for adolescents and adults. MVH serves patients from all of NM and from surrounding communities in AZ and TX. In 2018, they had over 2,900 inpatient admissions, and nearly 350 admissions to their outpatient Partial Hospitalization Program. Their service population is diverse in ethnicity and SES level, with approximately 62%, having Medicaid and 6% having no insurance.
MVH provides each patient with an individualized treatment plan guided by an interdisciplinary team, including: a Psychiatrist and/or PMHNP, Registered Nurse, MSW or LPCC therapist, and Mental Health Technician. They provide inpatient psychiatric stabilization for those who are experiencing a psychiatric crisis, and those struggling with SUD. Their Dual-Diagnosis Program for adults addresses a patient's psychiatric condition and their co-occurring SUD, which may include medically-managed detox services. Through their intensive program, patients gain valuable insight into addiction, along with relapse prevention tools and coping skills, including a strong aftercare plan. They also offer a Partial Hospitalization Program (PHP) option for adults struggling with SUD and co-occurring mental health conditions.
Offers an Intensive Outpatient Day Treatment program to address each aspect of life for those seeking recovery. Employs accountability measures such as 24/7 staffing and peer support in a social model of recovery in their Transitional Living Homes. Provide group sessions that enable those seeking recovery to process life without the use of drugs and alcohol including 12 step, CBT, DBT, meditation, "Seeking Safety", and nutrition groups.
El Paso VA – Home Based Primary Care
Students that are a part of the VA Home Based Primary Care team are responsible for traveling to patients' homes and engaging in psychotherapy with them and, at times, their families. Care is often provided in didactic teams with either a supervisor or other team member. When not able to travel to patient homes, students engage patients in telehealth sessions through either phone or video methods. Students provide care within the context of an interdisciplinary care setting, at times visiting patients with other staff members of various disciplines or communicating patient needs to the appropriate team member(s). Students also attend interdisciplinary team meetings and provide input on patient needs and updates