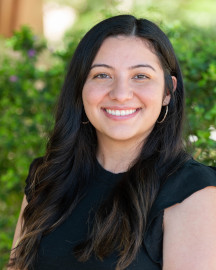 Assistant Professor, Co-Director of Clinical Training, Clinic Training Director
Contact Info
(575) 646-3755
Biography
Assistant Professor
Counseling & Educational Psychology
 (575) 646-3755
Dr. Sarah Ramos is currently the training clinic director for the department of Counseling and Educational Psychology and co-director of clinical training for the Counseling Psychology doctoral program. She received her PhD in Counseling Psychology from New Mexico State University where she received specialized training in Spanish for mental health professionals. She is a licensed psychologist in both Nevada and New Mexico. Dr. Ramos has extensive experience providing clinical services to the Latinx Spanish-speaking community, in both rural and urban settings. She engages in clinical work through systemic and liberation frameworks to promote health and healing.
Research Interests: 
Her research interests are two fold: (1) centering the lived experiences of Latinas in higher education and (2) bilingual clinical mental health training.
Recent Publications:
Ramos, S. L. & Torres Fernandez, I. (2020) Conociendo los caminos: Testimonios of Latina doctoral students. Peace and Conflict: Journal of Peace Psychology, 26(4), 379–389. https://doi.org/10.1037/pac0000450 
Pereira, S. R., Ramos, S. L., & Torres Fernandez, I. (2017). Semillas de empoderamiento en la frontera: Seeds of empowerment in the borderland. Latina/o Psychology Today, 4(1), 14-17.  
Academic Background:
Ph.D. in Counseling Psychology, New Mexico State University
MA in Clinical Psychology, Wheaton College
BS in Psychology, Loyola University of Chicago