Lab Purpose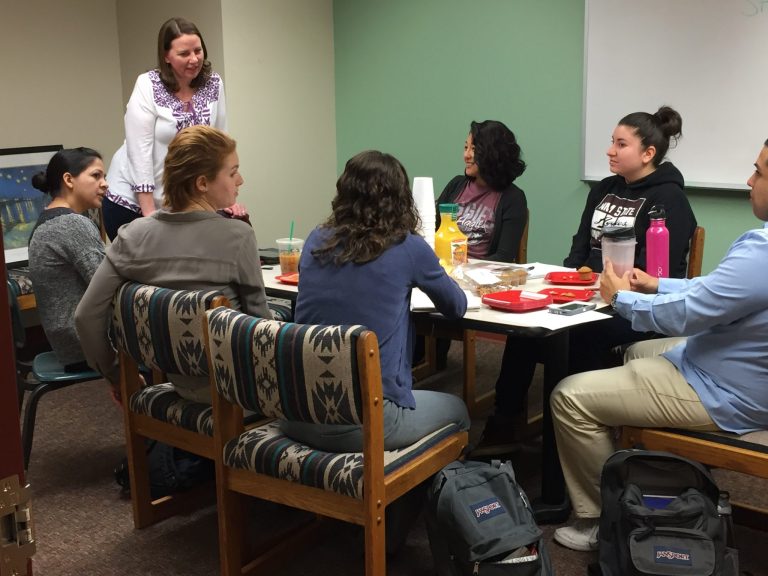 The Interdisciplinary Qualitative Research Initiative (IQRI) is a collaborative effort between faculty from the departments of Counseling and Educational Psychology and Anthropology. Our intent is to provide an environment that nurtures qualitative research on campus including developing student and faculty capacity for conducting qualitative research, and supporting long-term fundable research programs at NMSU. The IQRI provides space for research team meetings, access to technology to support data collection and analysis, provides training on qualitative research, and provides data analysis services.
Anna Lopez, Ph.D.
Dr. Lopez is a counselor educator whose primary area of research revolves around Social Justice and Advocacy issues specifically related to understanding the experiences of undocumented immigrants and their families in respect to deportation and undocumented status. Other research interests include Multicultural/ Bilingual counseling and supervision, body image, and eating disorders.
Theoretical perspectives: Critical Race Theory (CRT), LatCrit
Methodological perspectives: grounded theory, phenomenology
Mary Alice Scott, Ph.D.
Dr. Scott is a medical anthropologist whose research interests include critical ethnographic analysis of health, health care, and health policy in the United States, with particular focus on the U.S.-Mexico border region. Her current research is an ethnographic study of teaching and learning medicine in a family medicine residency program. Drawing on critical and applied medical anthropology, Scott works with an interdisciplinary team of students and faculty to both describe and critique the "culture of medicine" in this particular location and to develop strategies to better focus training on upstream medicine and to address issues related to physician depression, burn-out, and suicide. She is also involved as an applied anthropologist in local organizations that address health inequities and health system reform.
Theoretical perspectives: intersectionality, critical medical anthropology
Methodological perspectives: participatory action research, grounded theory, ethnography
Equipment and Resources Available
The lab has equipment such as audio and video recorders, laptops, and microphones to assist researchers with qualitative data collection and analysis. The lab space also includes two computers which have NVivo qualitative data analysis software installed.
Qualitative Lab Hours of Operation (click here)
For more information on the lab space and equipment, please contact Anna Lopez at annalo@nmsu.edu.
Affiliated Faculty
Counseling & Educational Psychology


Social Work
Francis Nadjet-Haiem, Ph.D.