The CEP Multicultural Research Symposium was established in 1996 by CEP faculty Drs. Luis and Enedina Vazquez and later coordinated by Dr. Eve Adams until 2017.  The purpose of the symposium was to create an opportunity for the Counseling Psychology doctoral students to present their multicultural research and to invite a nationally known expert in multicultural psychology to share their thoughts.  Over the years, the Symposium has expanded to include other students' research from with the CEP Department and across the College of Education.
CEP faculty, Dr. Andres Perez-Rojas, and Dr. Na-Yeun Choi currently coordinates the symposium. The Multicultural Research Symposium has become an area of distinction for the CEP Department because it showcases the department's commitment to engaging in research on a variety of diversity issues. This commitment is one of the reasons we attract doctoral students from all over the country who want to learn how to produce high quality multicultural research. Continuing Education Credit is provided by the Southwestern Institute for the Advancement of Psychotherapy (SIAP) to local health care providers who attend. SIAP is approved by the American Psychological Association to sponsor continuing education for psychologists
Symposium Timeline
2019
Keynote Speaker:
Dr. Hector Y. Adames
Assistant Professor of Clinical Psychology and Associate Department Chair of The Counseling Psychology Department at The Chicago School of Professional Psychology,
Scholarly interests include healthy and diseased memory, implicit cognition/bias, Latino/a Psychology, & multiculturalism.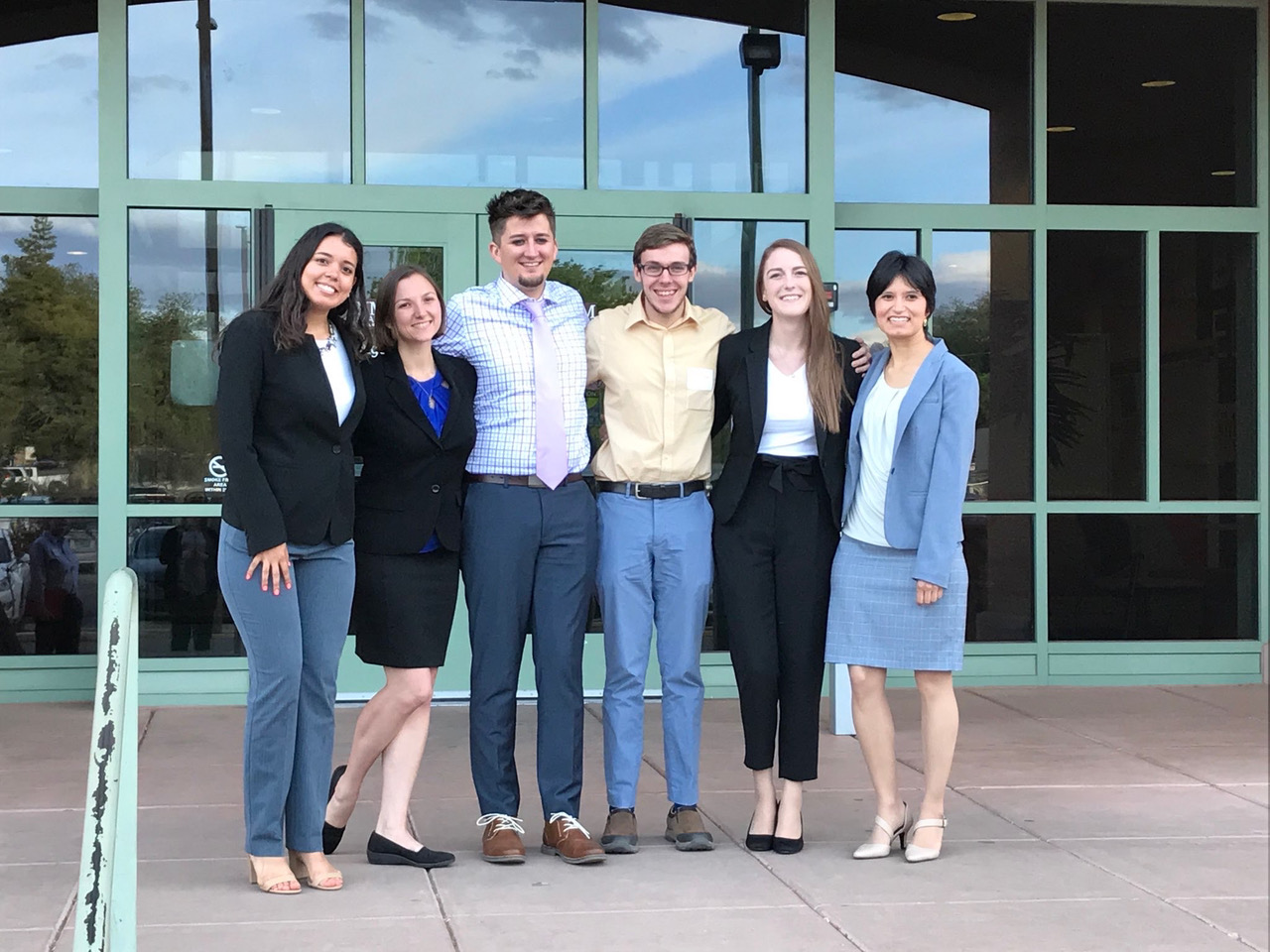 Doctoral Student Research Presentations:
Alex Evans,B.A
The Examination of the Psychology of Working Theory with Employed Asian American Women
Elisabeth Gruber
An Intersectional Conceptualization of Beauty in Latinx Women: A Mixed Methods Study
Jazmin González, M.Ed.
Minding the Therapist's Business: Client Curiosity in the Therapeutic Relationship
Megan Darby, B.A.
Development of Sexual Self-Schema among Trans and Gender Diverse Individuals
Chelse Lang, M.A.
Mental Health Service Trainees' Perceptions of Lesbian and Heterosexual Intimate Partner Violence
Brett Opelt, M.S.
Latinx College Student Mental Health.
2018
Keynote Speaker:
Associate Professor of psychology and education at Teachers College – Columbia University.
Scholarly interests include social inclusion/exclusion and emotional wellbeing, social class and poverty, antiracism and Whiteness, and participatory action research.
Research methods and social exclusion: It's not just what we study, it's how we study it.
Sarah Luz Ramos, M.A.
Conociendo los caminos: Testimonios of Latina doctoral students
Isaac Del Rio
Exploring the meaning of a counseling student organization for Mexican-American undergraduate women
Tania Valente
Understanding Mental Health Therapists' Attitudes towards Outcome Measures in Borderland Region
Jessica López-Harder
Empowering Voices: Evaluating A Training To Address The Needs Of Immigrant Families
Rebecca Brown 
The Role of Values on Mental Health and Help Seeking among Mexican Americans
Violeta 'Blanca' Jaure 
A Psychometric Study of the Interpersonal Mindfulness in Parenting Scale (IM-P) with a Diverse Population.
Ryan E. Flinn 
Awareness of PrEP Among Mental Health Professionals.
2017
Keynote Speaker:
Professor of Counseling Psychology and Dean of the School of Education at Boston University. His expertise is in minority student achievement, culturally relevant interventions with diverse populations, and the assessment of multicultural competence in counseling.
Doctoral Student Research Presentations:
Kayla Boland, B.A.
Perceptions of Therapist Empathy and Credibility when Working with Survivors of Sexual Assault
Alejandro Cervantes, M.S.
Escúchame porque Tengo Voz: Increasing Mental Health Awareness of Latino Male Adolescents in a Secondary School through the use of Testimonios
Steve R. Pereira, M.S.
La Frontera Cósmica: Exploring Spiritual Holism in the Southwest Borderland
Rebecca L. Pruitt, M.S.
Self Compassion as a Mediator and Gender as a Covariate in the Relation Between the Subscales of the Anger Rumination Scale and Life Satisfaction for Latinos
Wiley Stem, B.S.
Psychological Quality of Life in an LGBT sample: Correlates of Stress, Mindful Acceptance & Self-Esteem
2016
Keynote Speaker:
Professor and Program Coordinator, University of Iowa, Licensed Psychologist
Editor, Psychology of Men and Masculinity
The Psychology of Classism, Economic Privilege, and Racism, and the Responsibilities for Mental Health Professionals
Doctoral Student Research Presentations:
Chelsea Bridges, M.S.
Examining Pretending Orgasm & Sexual Satisfaction for Women
Andrea González, M.A., M.S.
Experiences of Religious Individuals who are Gay Affirmative
Jessica Rodríguez-Herrera, M.P.H.
Una Desesperación Muy Fea: Exploring the Psychological Impact of Deportation
Sibella Salazar
Understanding and Healing Historical Trauma: Perspectives from Elders
Helen Youngju Kim, M.A.
Disordered Eating Among Asian American Women: A Racially-Expanded Model of Objectification Theory
2015
Keynote Speaker:
Kevin Washington (Mwata Kairi), Ph.D.
Licensed Counseling Psychologist
President-elect, Association of Black Psychologists
Effective Mental Health Interventions with Black Clients: The Power of Ubuntu Psychotherapy Revealed
Doctoral Student Research Presentations:
Charlotte Williams, M.A.
Perceived Discrimination, Acculturative Stress, and Depressive Symptoms in Mexican Americans: Familism and Ethnic Identity as Moderators
Susanna Wan Yi La
Drive for Muscularity in Asian American Men: Sociocultural and Racial/Ethnic Factors as Correlates
Kristal A. Valdovinos, B.A.
Predictors of Binge Eating Among Latina Versus White College Women
Heather Terhorst-Miller, M.S.
Anti-Affirmative Action Values: The Beliefs of Undergraduate, Master's, and Doctoral College Students
Jeremy J. Rutherford, M.S.
Reliability and Validity of the Self-Compassion Scale with Latino College Students
Benjamin J. Neeley, M.A., LSAA
Self-Compassion as a Mediator between Anger Rumination and Life Satisfaction in a Sample of Latino College Students
Raul A. De La Cruz, M.A., LMHC, LSAA
Perceived Parental Reactions to Coming out, Attachment, Level of Outness, and Optimism in Romantic Relationships
Christopher Michaels, B.A.
Resolving Values Conflicts: The Training Experiences of Religious, Gay-Affirming Therapists and Trainee
Jessica L. Jackson, M.A. LPC-Intern
The Impact of Discrimination and Racial Microaggressions on the Problem Behavior of Youth
---
2014
Keynote Speaker:
Ruth Fassinger, Ph.D.
Professor Emeriti, University of Maryland and APA Visiting Scholar
APA Fellow in Div. 17, 35, and 44
And Still I Rise: Career Journeys of Prominent Diverse Women
Doctoral Student Research Presentations:
Ana Laura James, M.A.
Exploring the psychological impact of the Mexican drug war on a border Mexican community
Chu Hui Cha, M.S.Ed.
Perceived Discrimination, Intergenerational Family Conflicts and Depression in Foreign-born and U.S.-born Asian American Emerging Adults
Jamey Leeanne Rislin, M.S.W., L.C.S.W., P.I.S.W.
A Qualitative and Quantitative Descriptive Study of Client's Experiences Exploring Culture in Counseling
Brittany Stamper, M.M.F.T.
A Content Analysis of the Perceptions of Teachers and Students who have Participated in the Kimochis Program
Annette M. Tardif, M.A.
The Effect of a Training Curriculum in Culturally-Competent Integrated Healthcare on Counseling Psychology Trainees' Behavioral Health Self-Efficacy
Kristin Rankin, M.A., L.M.H.C.
Impact of Ethnic Matching on Perceived Level of Client Change
---
2013
Keynote Speaker:
Joseph Trimble, PhD
Research Associate at the Center for Cross-Cultural Research at Western Washington University in Bellingham, Washington and Senior Scholar at the Tri-Ethnic Center for Prevention Research and an Adjunct Professor of Psychology at Colorado State University and a Research Associate for the National Center for American Indian and Alaska Native Mental Health Research at the University of Colorado Health Sciences Center
Infusing the Psychology Curriculum with Ethnocultural Content: Truths, Half-Truths, Anecdotes, and the Role of Critical Thinking
Doctoral Student Research Presentations:
Jill K. Peters, M.S.
Alcohol and Drug Use, Co-occurring Disorders, and Academic Distress among Latino and White Students
Casey N. Durham, M.A., LPC-I
Nonsuicidal Self-injury in Latino Students: Trauma, Discrimination, and Demographic Correlates
John A. DeBerry, B.A.
Exploring the Relationship between Heterosexist Attitudes and Contact with LGB Individuals
Brett Shumway, M.A., LMHC
Client's Religiousness and Expected Working Alliance with Theistic Psychotherapists
---
2012
Keynote Speaker(s):
Kevin Cokley, Ph.D.
Associate Professor of Counseling Psychology and African Diaspora Studies
The University of Texas at Austin
Editor-in-Chief, Journal of Black Psychology
Toward a Comprehensive Understanding of African American College Students: The Interface of Counseling, Educational, and Social Psychology
Tania Israel, Ph.D. and
Associate Professor in the Department of Counseling, Clinical, and School Psychology
University of California, Santa Barbara
Past Division 17 (Society of Counseling Psychology) President of the American Psychological Association
Cathleen Willging, Ph.D.
Senior Scientist, Behavioral Health Research Center of the Southwest, Pacific Institute for Research and Evaluation
Mental Health Intervention Research among LGBTQ Populations in New Mexico
Doctoral Student Research Presentations:
Anita Mihecoby, M.A.
Native American College Students Cultural Sources of Strength: Participatory Action Research
Rebecca Gonzalez, B.A.
A Qualitative Exploration of the Experiences of Latino, First-Generation College Students Attending a Hispanic Serving Institution
Xuan V. Nguyen, M.S., LMHC
Acculturation Across Generations of Hispanic College Students in the Borderland Region
Richard Calleja Zamora, M.S.
The Romantic Partner Conflict Scale as a Reliable Measure of Conflict with Hispanic/Latino Sample
Amy Crandall, Ed.S.
Bullying in College
Justin Boland, M.A.
The Influence of Mindfulness on Counseling Outcomes
---
2011
Keynote Speaker:
Mary Fukuyama, PhD
Staff Psychologist, University of Florida Counseling Center
Fellow of APA & Div. 17
Spirituality and Social Justice: Companions on the Journey
Doctoral Student Research Presentations:
Amileah R. Davis, LSAA, LBSW
Historical Loss, Historical Loss Associated Symptomology, and Ethnic Identity among an Urban American Indian Community
Richard Aaron Martinez, BA
Counselor Sexual Orientation, Client Homophobia, and Ratings of Professional Qualities
Dawn M. Bates, MA
The Impact of Counselors" Nonverbal Religious Disclosures
Dianna Marisol Gonzalez, EdM
Latino/a Counseling Psychology Doctoral Students' Clinical Experiences with White Clients
Laura M. Cote, MA
Promotoras: Experiences, Perspectives, and Recommendations
---
2010
Keynote Speaker(s):
Jan Derkson, PhD
Professor of Clinical Psychology at Radboud University of Nijmegen, Netherlands
Huib Van Dis, PhD
Emeritus Professor, Department of Medical Psychology and Epidemiology of the Onze Lieve Vrouwe Gasthuis in Amsterdam, Netherlands
Lisa Stolarczyk, MD; Imran Raza, MD; & Claudio Perez-Ledezma, MD
Residents at the Family Medicine Clinic, Las Cruces, NM
Multicultural and Social Justice Issues in Health Services Delivery Around the World
Doctoral Student Research Presentations:
Elvia Lorena Navarro, BA.
Soy lo Suficientemente Latino?: Exploring Influences on Latino Ethnic Identity and Academic Goals
Vanessa Berens, MA
Empathy as a Predictor of Intergenerational Intimate Partner Violence
Brady Garrett, MS
Examining MMPI-2 Profiles of American Indian and non-American Indian Law Enforcement Applicants
Laura L. Luna, MA
Shame Mediating the Relationship Between Child Abuse and Psychological Outcomes in a Diverse Sample of Women
Sharna Horn, MA
Eating Disorders and Body Image Among Mexican and American Women